SBA Resources from First Financial Bank
First Financial Bank is committed to providing resources throughout these unprecedented times. We are actively working on a Small Business Administration loan program to offer our customers in conjunction with the CARES Act recently signed into law and will update this page regularly.
The CARES legislation offers businesses with fewer than 500 employees payroll protection that are affected by COVID-19. While some of the details are still being finalized, here are some preliminary details:
The SBA will cover up to eight weeks of payroll costs including benefits as long as you keep your business open and maintain your payroll during this emergency. Your loan may be forgiven, and details on forgiveness can be found on the Treasury Department's website by clicking here.
Your First Financial loan officer is ready to be a source of strength through these times.
Understanding the Program

Loan Amounts Are the Lesser Of:
2.5 times the monthly average payroll costs1
or
$10,000,000

Loan Terms:
0.5% interest rate
Up to a 2 year term
No collateral or personal guaranty required
Must sign a Good Faith Certificate
Payment deferrals of six months
Loan may be forgiven by the SBA2
Excluded Payroll Cost:
Compensation of an individual employee in excess of an annual salary of $100,000, as prorated for the period of February 15, to June 30, 2020
Payroll taxes, railroad retirement taxes, and income taxes
Any compensation to an employee whose principal place of residence is outside of the United States
Qualified sick leave or family leave wages for which a credit is allowed under the section 7001 and 7003 of the Families First Coronavirus Response Act

Loan Checklist:
Be sure to visit the SBA Website for more information. Before you apply, please review the SBA Paycheck Protection Program overview from the Treasury Department's website by clicking here.
To learn more about the Paycheck Protection Program and find frequently asked questions, download the U.S. Chamber of Commerce's checklist and guide to understand the requirements for eligibility, by clicking here.
The Treasury Department's paper application will help you understand questions and certifications that will be expected to qualify for the PPP loan.
Other SBA Resources
In addition, the Small Business Administration has released guidelines for the state of Texas offering low-interest, federal disaster loans for working capital to small businesses suffering substantial economic injury as a result of the coronavirus.
These disaster relief loans, applied for directly from the SBA, may be used to pay fixed debts, payroll accounts, accounts payable, and other bills that can not be paid due to the disaster's impact.
You may apply for the Economic Injury Disaster Loan (EIDL) directly through the SBA website:
Apply for EIDL assistance from the SBA here >
If you have questions about the EIDL assistance, you may call the SBA's Disaster Customer Service Center at 800-659-2955 or email them disastercustomerservice@sba.gov..
We are here to be as helpful as we can during these times. Please check back regularly for updates regarding the First Financial Bank SBA Program.
Which Loan is Right for You?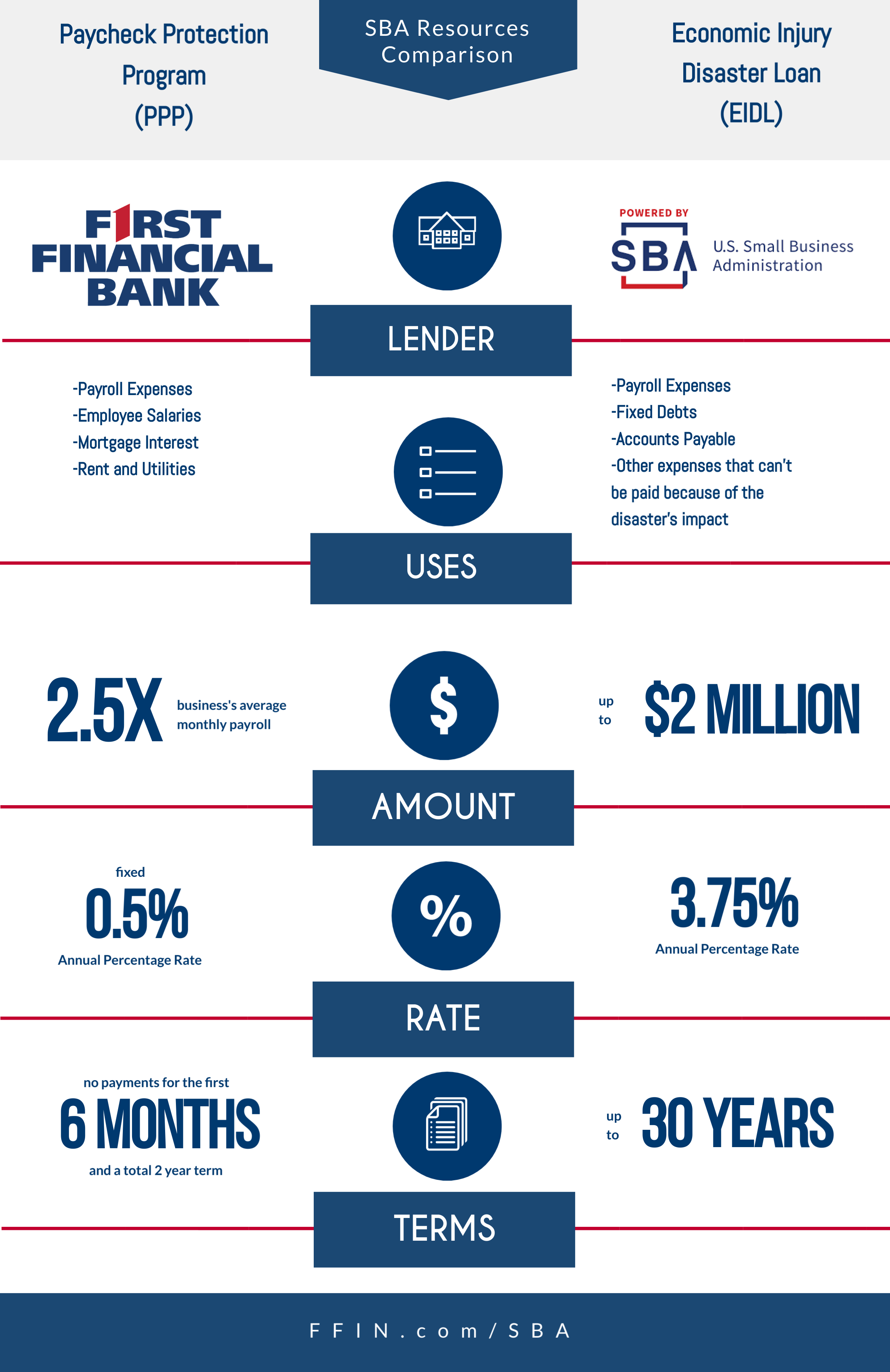 This information is accurate and updated as of March 30, 2020. Terms and conditions are subject to change.
Online Application Coming Soon
1 Payroll costs are defined as: (1) the sum of payments of any compensation with respect to employees that is a—(A) salary, wage, commission, or similar compensation; (B) payment of cash tip or equivalent; (C) payment for vacation, parental, family, medical, or sick leave; (D) allowance for dismissal or separation; (E) payment required for the provisions of group health care benefits, including insurance premiums; (F) payment of any retirement benefit; or (G) payment of State or local tax assessed on the compensation of employees; and (2) the sum of payments of any compensation to or income of a sole proprietor or independent contractor that is a wage, commission, income, net earnings from self-employment, or similar compensation and that is in an amount that is not more than $100,000 in 1 year. 2 Loan forgiveness is subject to the requirements and qualifications of section 1106 of the Cares Act. Borrower will be required to monitor and support the necessary documentation for loan forgiveness.