Bill Pay Service to Put YOU FIRST
Your Bill Pay Platform
1. The Payments Tab
This page is an overview of all your payment information and activity. Under this tab, you can pay, add, and manage payees, schedule payments, and view payment history. There is also an option to "Pay All" if you wish to do so.
When scheduling or making a payment, this screen will also highlight the difference between the Process Date and the Payment Date.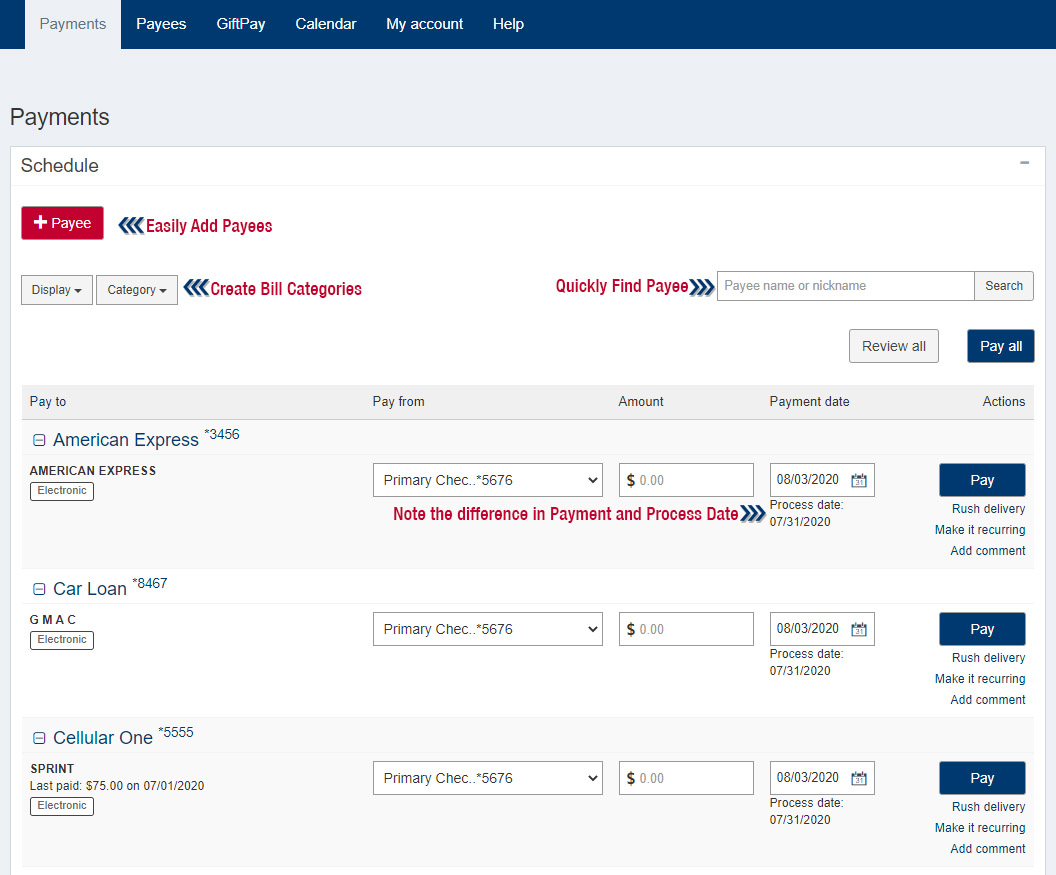 Under this tab you can view pending payments and recent payment history.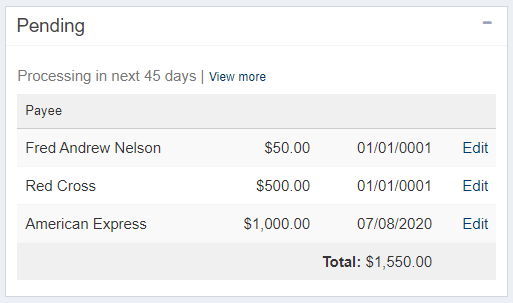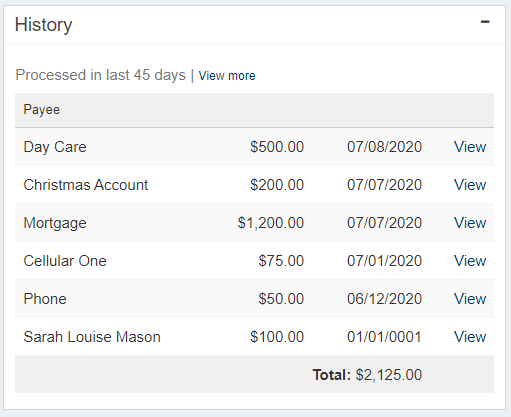 At the bottom of the Payments tab is the option to "View History." Payment history prior to July 23rd, 2020 will be viewable in a special report, separate from history originated in the new system. See the image below to view the steps for exporting payment history. Once exported you may save or print the information.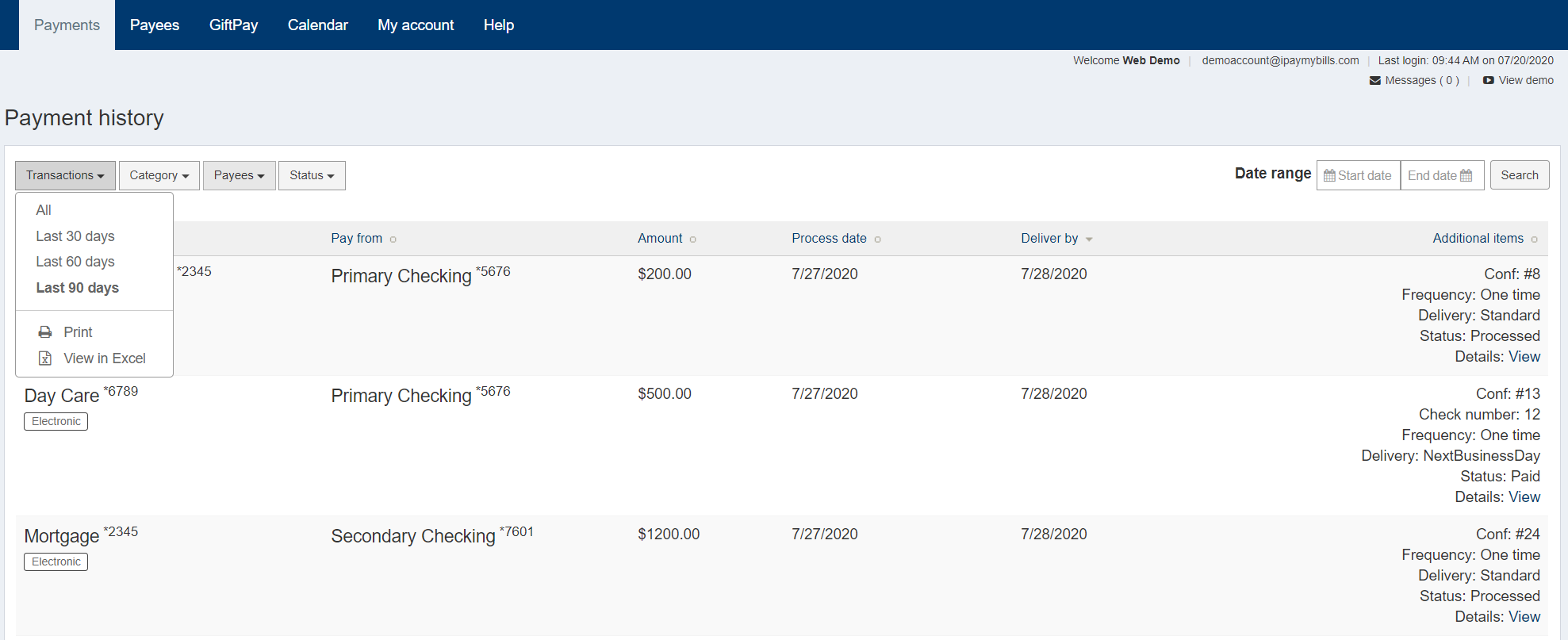 2. The Payee Tab
Much like the payments tab, here you can pay, add, and manage payees. Payees are easy to find using the category filters across the top of the page. You can also remove any unwanted payees from your online bill pay account.

Once you click the pencil icon (above) you can edit the account nickname, default pay from account, and categorize a specific payee.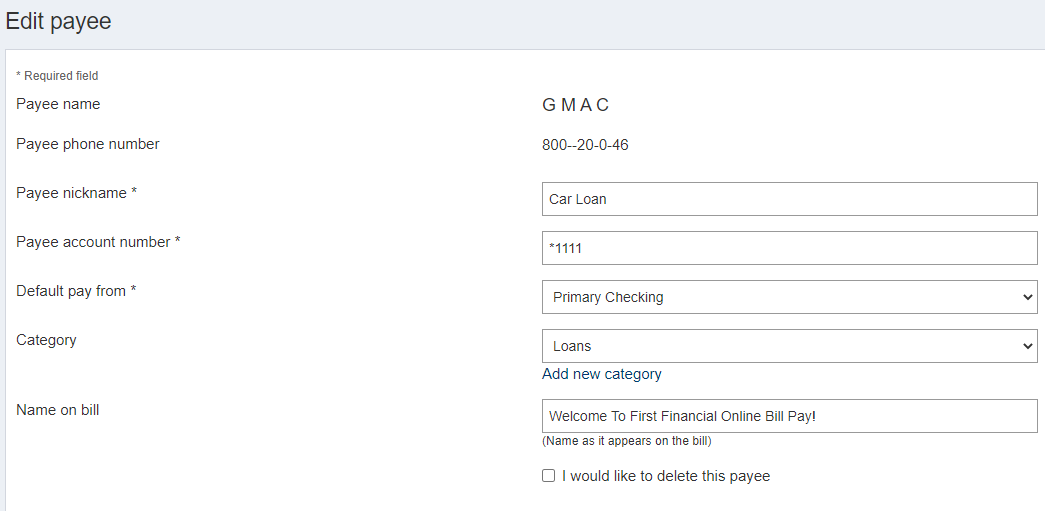 3. The Calendar Tab
Here you can easily view your payment history and payment reminders in chronological order. To assure timely payments, you can also download the information into your Microsoft Outlook Calendar.
4. My Accounts Tab
Under this tab you can edit personal information, change your email or password, manage notifications, and view your pay from accounts. By clicking "view accounts," you can find and edit all your approved pay from accounts, or add a new one.

Frequently Asked Questions
What Information Will Be Transferred?
Your current customer setup, payee contact, and current account information will be automatically transferred to the new online bill pay system, and you will not need to re-enter this information. In addition, your scheduled one-time and recurring payments will also be transferred.
What Information Will NOT Be Transferred?
Any bill history older than 18 months will not be transferred.
Why Can I Not Access the New Platform?
If you are having trouble accessing our new platform, please make sure your internet browser's security settings are up-to-date. Need help with your browser settings? Click here for step-by-step instructions.
Funds are now collected on process date instead of the due date.
After the conversion on July 23rd, we will process Online Bill Payments using Available Funds. This means that any electronic payment will be collected from the account on the process date, which is generally the day before the payment is due. If the money is not available on that date, you will receive communication notifying you the payment has failed and will attempt to be rescheduled to the next day. We will attempt to reschedule payment for 3 days (process date and 2 additional business days) to collect the money and send the payment before it cancels. Checks will remain as they do today: funds will leave the account when the check clears (if funds are available). If a check is lost, a normal stop payment needs to be placed on the bill pay check as it is written off of your account.
Who to Contact for Questions:
Should you have any questions or concerns prior to the update, please feel free to contact Customer Care at 855-660-5862. Thank you for choosing First Financial Bank. We look forward to better serving you with these updates! Once the update is complete, please call 866-243-9974 for any questions.
Where is My Payment History?
History prior to July 23rd, 2020 will be viewable in a special report, separate from history originated in the new system.
For bill pay support, call the First Financial Customer Care Center at 855-660-5862,

Monday-Friday from 8:00am to 7:00pm.
Beginning July 23, 2020- NEW After Hours Bill Pay Support:
866-243-9974
from 6:00pm to 1:00am.




Want to see all of the features?


Are you a Business Banking Customer?
Please note, there are different changes within the business online bill pay.