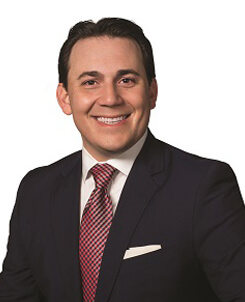 Ryan Craig
Mortgage Loan Officer
NMLS# 216844
Phone

972-385-8239
rcraig@ffin.com
Since entering mortgage lending in 2004, Ryan Craig has excelled at keeping his clients informed on how to build wealth using the mortgage loan as a financial tool. He delivers a distinctive approach by being a trusted expert to his clients. In the ever-changing market, he is a steady, respected figure in the real estate community.
First Financial Mortgage has created the perfect platform for Ryan to succeed. The wide array of lending options maximizes his skill set to cater the perfect mortgage loan to fit his clients' needs. In addition, the in-house combination of processing, underwriting and closing provides a seamless process. Ryan is fully aware that superior customer service is of the highest importance and that his success as a loan officer is determined by the service & advice he provides.
In 2015, Ryan made the list of the top 50 Young Guns in Mortgage Professional America magazine. Locally, he has been selected as one of DMagazine's Top Mortgage Professionals every year since 2010. While closing more than $350 million in loan volume since 2010, Ryan has maintained his core values of giving every single client the one-on-one attention necessary to advise them on the best loan program for their needs. Aside from spending this time with borrowers, one of his greatest joys is spending time in New York City and Nantucket, Massachusetts with his wife and their two daughters.
Reviews