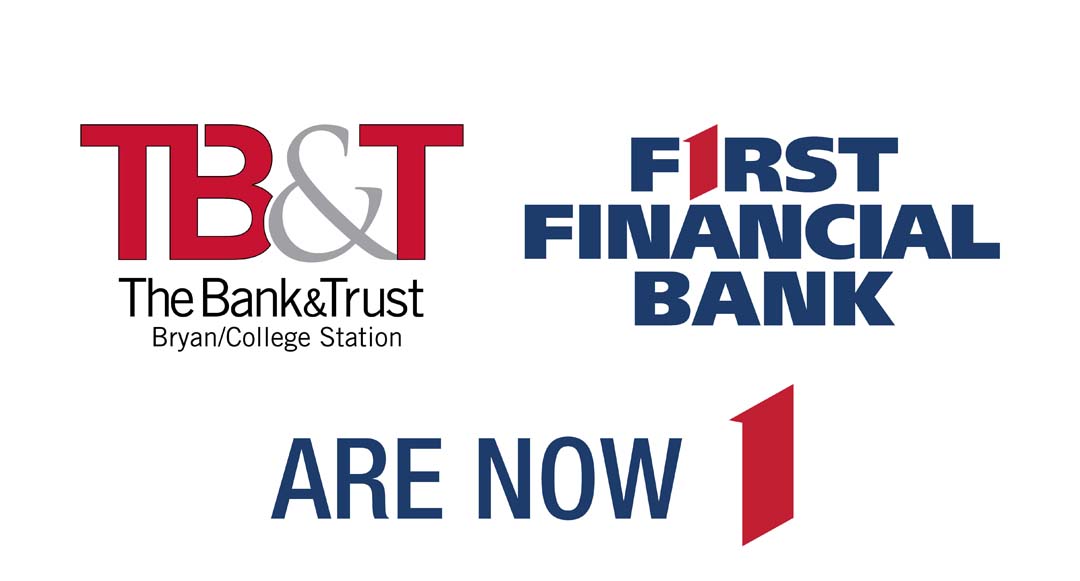 Welcome to the Family, TB&T Business Customers!
We are excited to have you join the First Financial Family. This page was designed with one thing in mind: putting YOU FIRST. The Bank and Trust of Bryan/College Station and First Financial Bank will complete our systems integration over the weekend of April 17th.
Important Merger Communications
Throughout the course of the conversion, we will periodically update this page with information. We've included the original communication below.
Business Account Welcome Letter >
Business Account Transition Guide >
We will move your current online banking and bill payment information to the First Financial online and mobile banking platform. The below online and mobile banking guide highlights key dates and important actions to prepare for the conversion.
Business Online and Mobile Banking Guide >
Join us for webinars to be introduced to our Business Online Banking Enhanced and Treasury Products:
Webinar 1 – Business Online Banking Enhanced/Treasury > April 14 at 9:00am CST
Webinar 1 - Business Online Banking Enahanced/Treasury Afternoon > April 14 at 1:00pm CST
Webinar 2 – Payment Manager with Positive Pay > April 14 at 2:00pm CST
Webinar 3 – Business Online Banking Enhanced/Treasury > April 15 at 10:00am CST
Webinar 4 – Business Online Banking Enhanced/Treasury > April 15 at 3:00pm CST
Webinar 5 – Payment Manager with Positive Pay & ACH Filter > April 16 at 11:00am CST
Business Online Banking Overview
Payment Origination Overview
Training Video 3 Coming Soon
ACH 2020 Rules Update
Treasury Management Client Support Team
Direct: 325.627.7201
Toll Free: 877.627.7201
Office Hours:
Monday-Friday
8am – 6pm CST
Treasury Management Cut Off Times (all in CT) as of March 1, 2020
Business Online Banking
Account Transfers:
Bill Pay: 2pm

Bill Pay Support is available from 6pm - 1am at 866.243.9974

Wire Transfers Online:

FX 12:30
Int'l US$ 3:30
Domestic 4pm

ACH Origination:
Positive Pay & ACH Filter Exception Decisions:
Remote Deposit Capture: 8pm