Total Control, Wherever You Go
With Debit Card Controls through the First Financial Bank Mobile App, you can control when, where, and how your debit card is used. With the swipe of your finger, disable your card if it's lost, set transaction allowances, choose spending limited, and choose notification methods from one place. With debit card controls, you can select which alerts YOU find most helpful in managing your card.
Getting Started
Once you open a First Financial Bank Checking Account, simply enroll in Online Banking. Once that is completed, download the First Financial Bank Texas App on your compatible mobile device. If you already have the app, make sure it's the most updated version. You can access debit card controls through both online and mobile banking.
Using Card Controls
From the homepage of your Mobile App, click "More" then and select the debit card you want to adjust. From the homepage of online banking, the "Manage Cards" section can be found on the righthand side of your screen. Once on the debit card controls page, there are three main options: security controls, spending limits, and alert settings.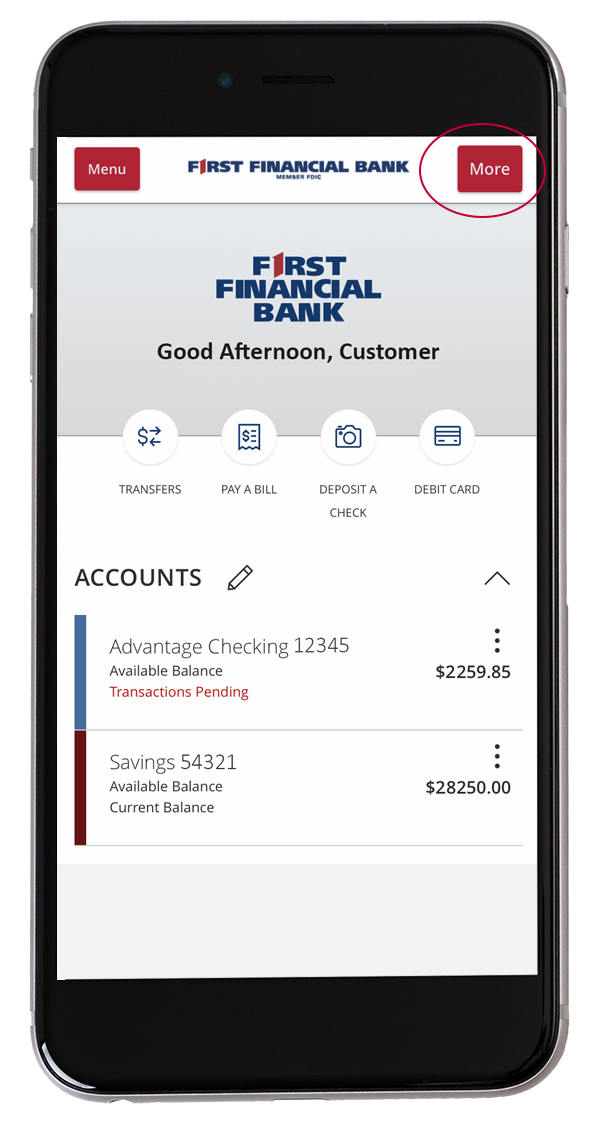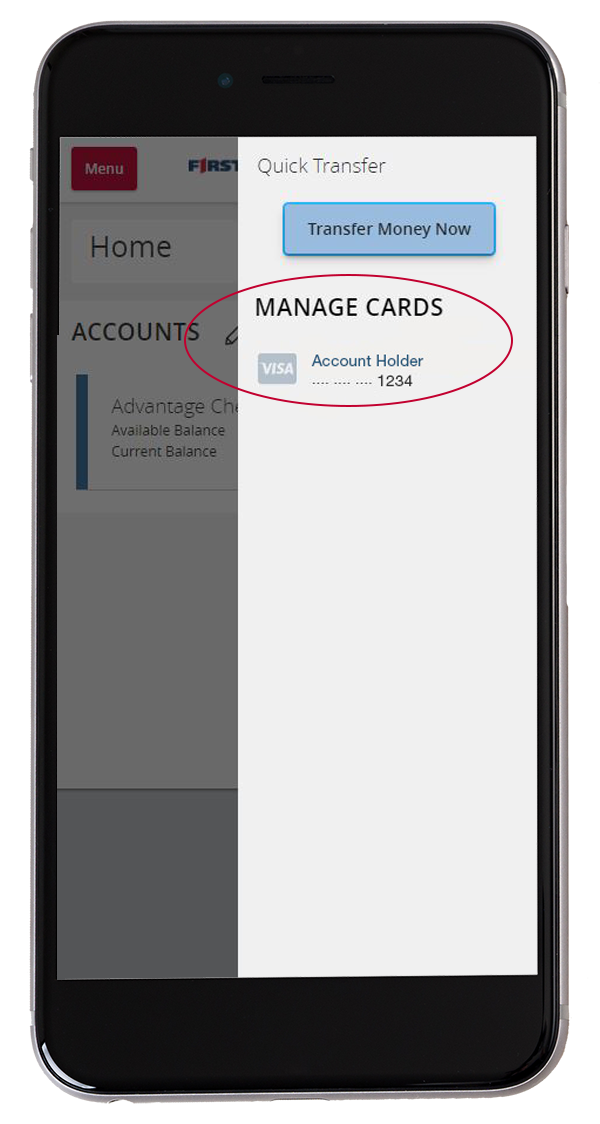 1. Security Controls
Under the security tab, you can make decisions based on your cards functionality. Not a fan of online shopping? You can easily let your card to decline all online transactions!
Here, you can also choose to turn your debit card off. This temporarily declines all transactions until otherwise updated. This is a great option if your debit card is ever lost or stolen.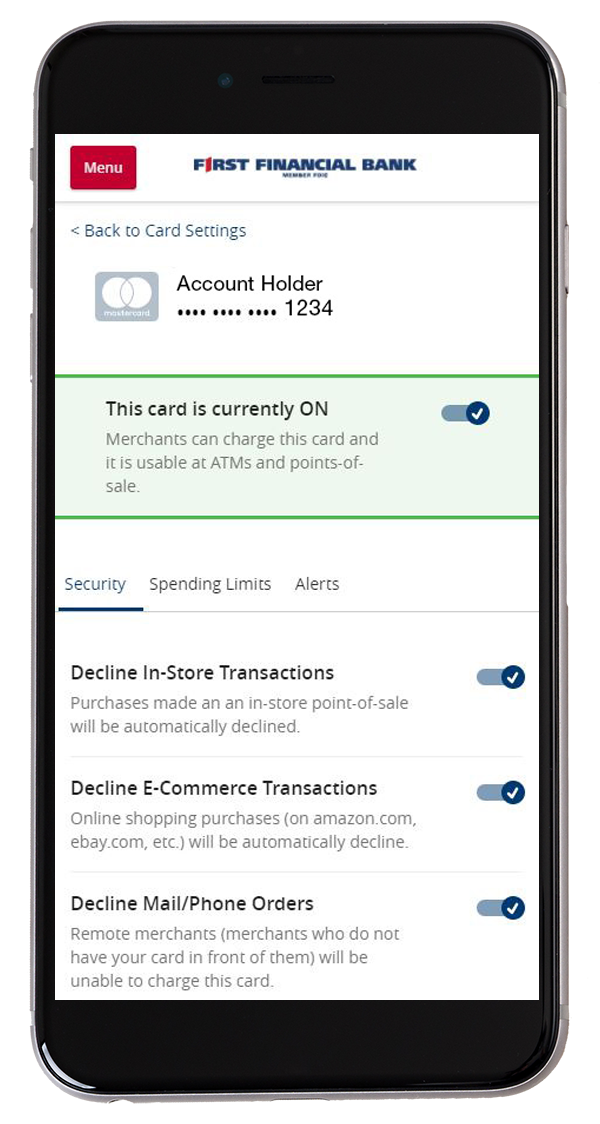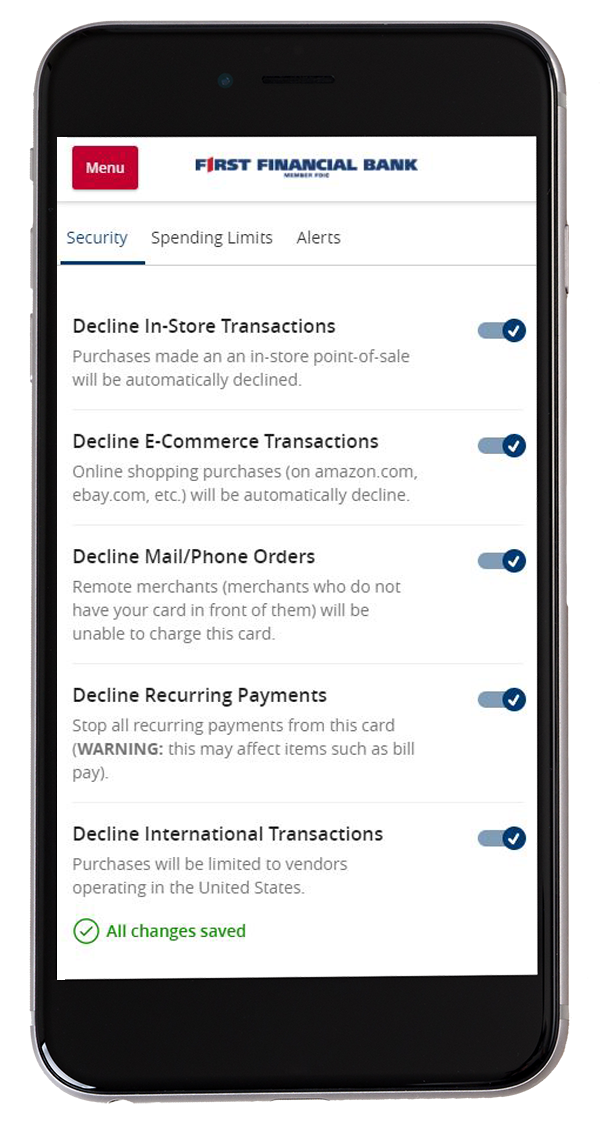 2. Spending Limits
From the Spending Limits tab, you can temporarily increase your daily spending or daily ATM limit. If you select to increase your daily spending limit, it will increase to $5,000 (or your full account balance, whichever is lower) until the end of the day. The option to increase your daily ATM limit brings your limit to $1005, until the end of the day. If you do not wish to wait until the end of the day, you can simply turn off your increased limits once your transaction is complete.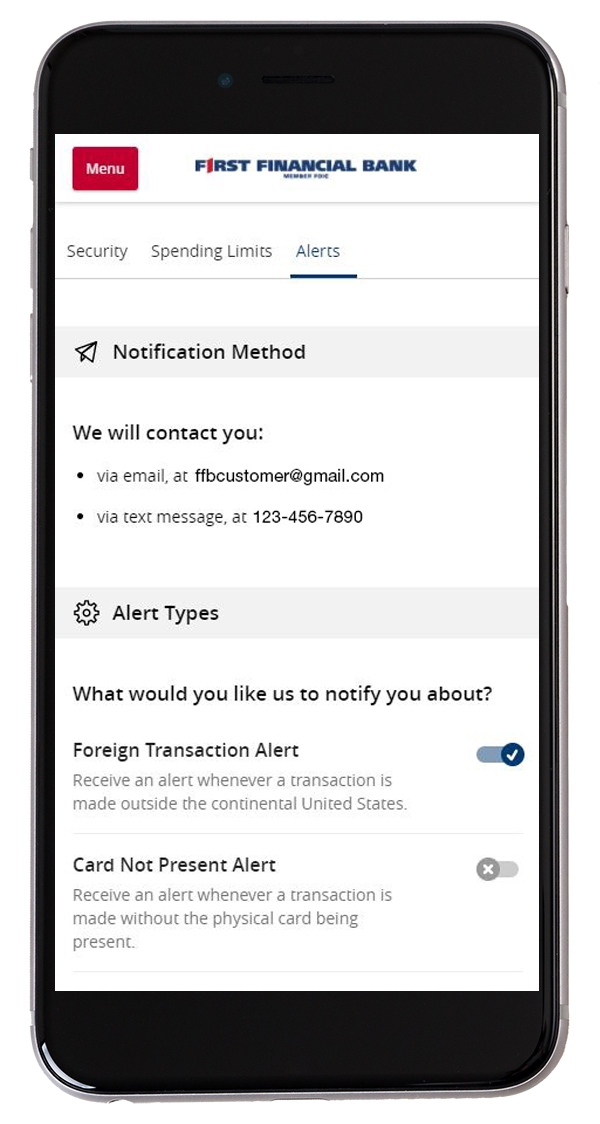 3. Alerts
Under the Alerts tab, you can verify your method of notification. Please confirm that the email address and/or phone number look correct to begin receiving debit card alerts.
Here, you can also choose the types of transactions you would like to receive an alert for. Alert types include:
Foreign Transaction Alert (alert for any transaction made outside the continental US)
Card Not Present Alert (alert for any transaction made without the physical card being present. For example, online)
Amount Over Limit Alert (alert anytime your set amount is exceeded at a point-of-sale or ATM)

Select the amount for which you would like alerts for any purchase that exceeds your limit