Get Credit Savvy with our Complimentary Reporting Tools!
Your credit score is important to you, and at First Financial Bank, your financial health and wellness is important to us. We'd like to introduce you to SavvyMoney, a cost-free platform that gives you convenient, unlimited access to your credit score and full report anytime, anywhere and on any device through online and mobile banking. You can also see a personalized credit score report card explaining the factors that influence your score and personalized tips to improve your credit score. Don't worry, it's always a soft pull, so it won't impact your credit!
We want to educate and empower you through financial literacy at First Financial Bank, and SavvyMoney is the first of many programs to come to help you stay on the path to financial health and wellness.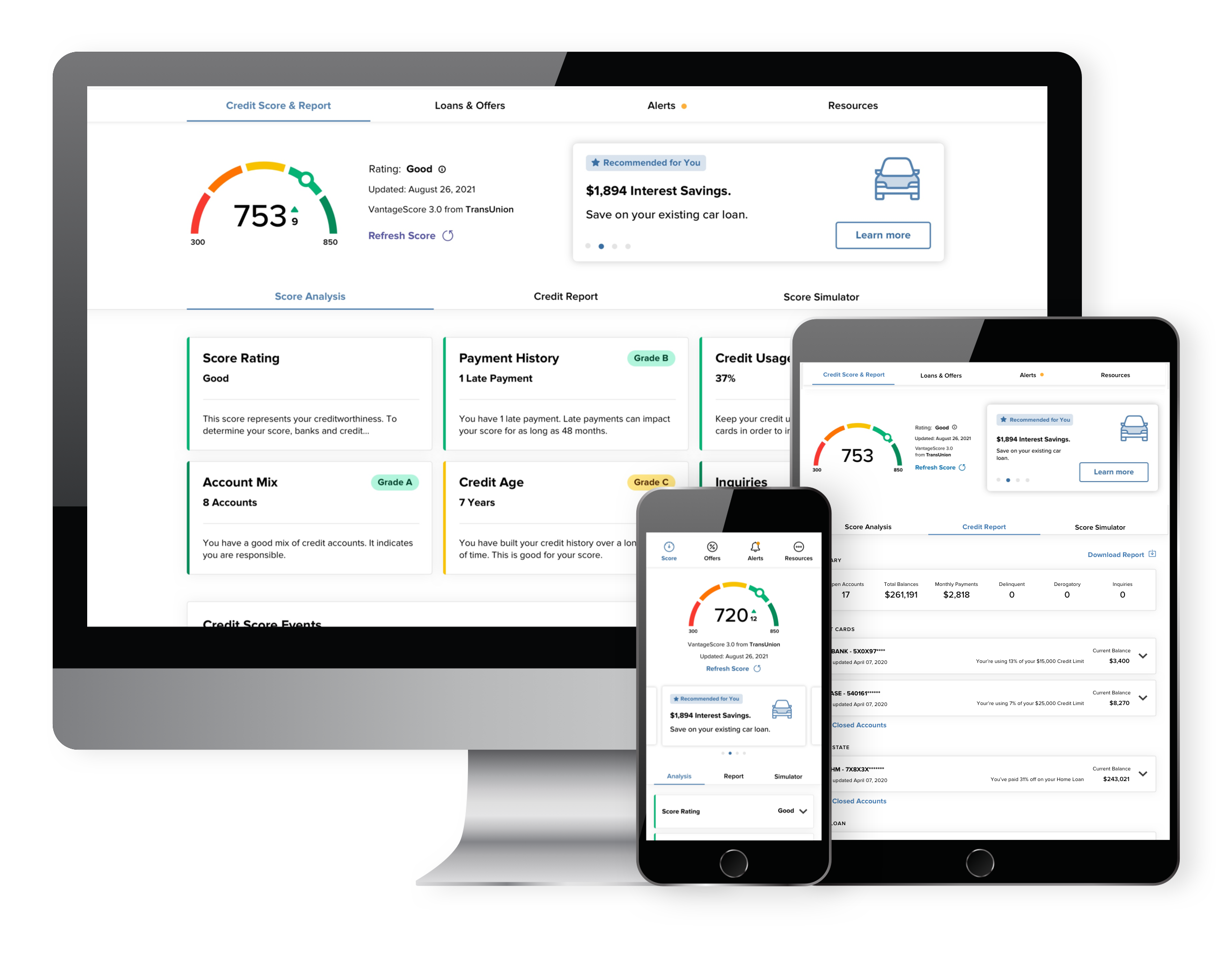 KEY BENEFITS
Cost-free access to your credit score, full credit reporting, and credit monitoring.
You can track your score daily (up to every 24 hours) and your score will never be negatively affected.
Use the Score Simulator to see what happens to your score if you were to take certain actions.
No need to install an extra app-- you can do it all within the First Financial Bank Texas mobile app!
Inside the Comprehensive Credit Monitoring Platform

1. Complimentary Credit Score
With the SavvyMoney credit program, you can get your latest credit score, an understanding of key factors that impact the score, and see the most up-to-date offers that can help reduce your interest costs. You can track your credit score daily, and your score will never be negatively affected.

2. Full Credit Report
You will also get a full credit report once a month, including all the information you would find on your credit file such as a list of open loans, accounts, and credit inquiries. You will also be able to see details on your payment history, credit utilization, and public records that show up on your account. When you check your credit report, there will be no impact to your score.

3. Credit Monitoring
The SavvyMoney credit program also monitors your credit report daily and informs you by email if there are any big changes detected such as a new account being opened, change in address or employment, a delinquency has been reported, or an inquiry has been made. Monitoring helps you keep an eye out for identity theft.

4. Score Simulator
Financial decisions cause your score to move up or down. Simulate your credit score by selecting actions you might take and see how your score reacts. Use the interactive tool to simulate credit or loan applications, balance transfers, credit inquiries, missed and on-time payments, credit pay-offs, and more.