More ways First Financial puts YOU FIRST
With our new fraud alerts, you will always be the first to know! We are excited to introduce our enhanced fraud notification system, protecting your money 24/7. This new tool automatically notifies you when fraud is suspected-- no need to enroll!
How First Financial Protects You
With real-time fraud alerts, keeping your debit card safe is as easy as sending a text. We use sophisticated tools to monitor your debit card and detect any unusual or suspicious activity. As a proactive security measure, our fraud detection alert system will reach out to you directly to confirm transactions.
How the Fraud Notification System Works
Whenever a potentially fraudulent transaction occurs, our system will automatically text the phone number listed on your accounts, as well as send an email. If the number listed on your account is not associated with a mobile phone, you will receive an automated phone call and email. From any of these channels, you can quickly confirm or deny transactions.
SMS Alerts
To use this feature to the fullest, make sure the mobile phone number listed on your account is up-to-date! SMS alerts are the simplest and fastest way to monitor your account! There are three different ways to respond to a text alert:
If you receive a text and the transaction is not fraudulent, simply reply to the text message "YES" and the system will thank you for confirming.
If the transaction is fraudulent, please reply "NO." From there, you can contact our Customer Service Team at 855-660-5862.
If the transaction is blocked and not fraudulent, reply "YES" and try the transaction again. If the transaction is blocked and it was fraudulent, contact our Customer Service Team at 855-660-5862.
1.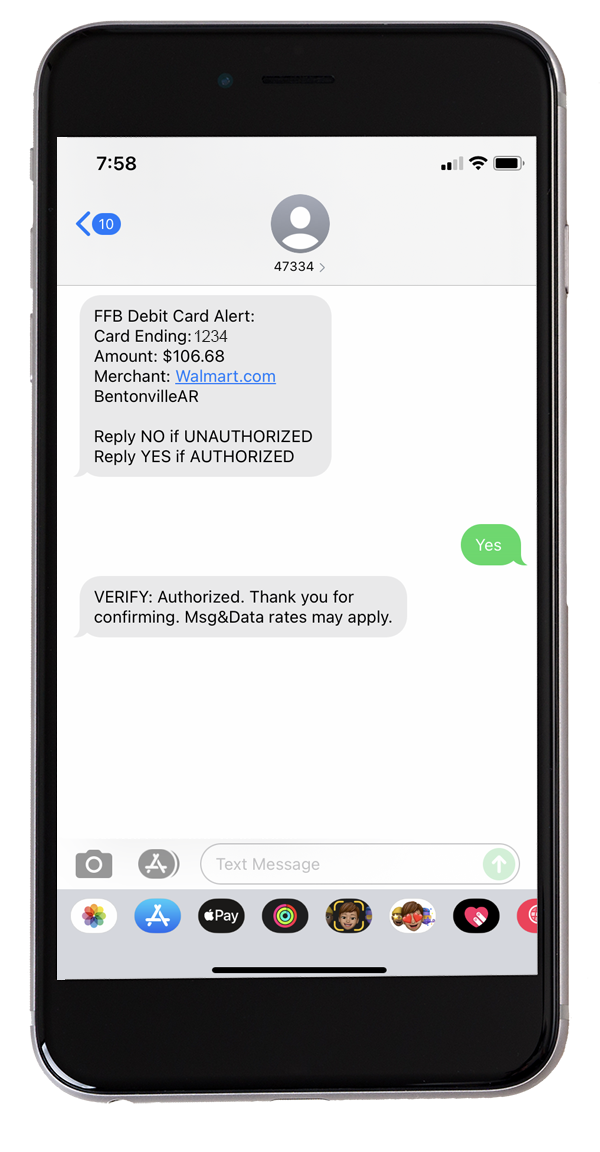 2.

3.

NEW*

Push Alerts

Much like SMS alerts, push notifications will give you real-time access to account information. When potentially fraudulent transactions occur, the First Financial Bank Mobile App will notify you immediately. There is also the option to set other accounts alerts. Alerts include, but are not limited to:
Low balance account alerts
External transfer notification
New computer or browser registration
Incorrect password attempts
New user creation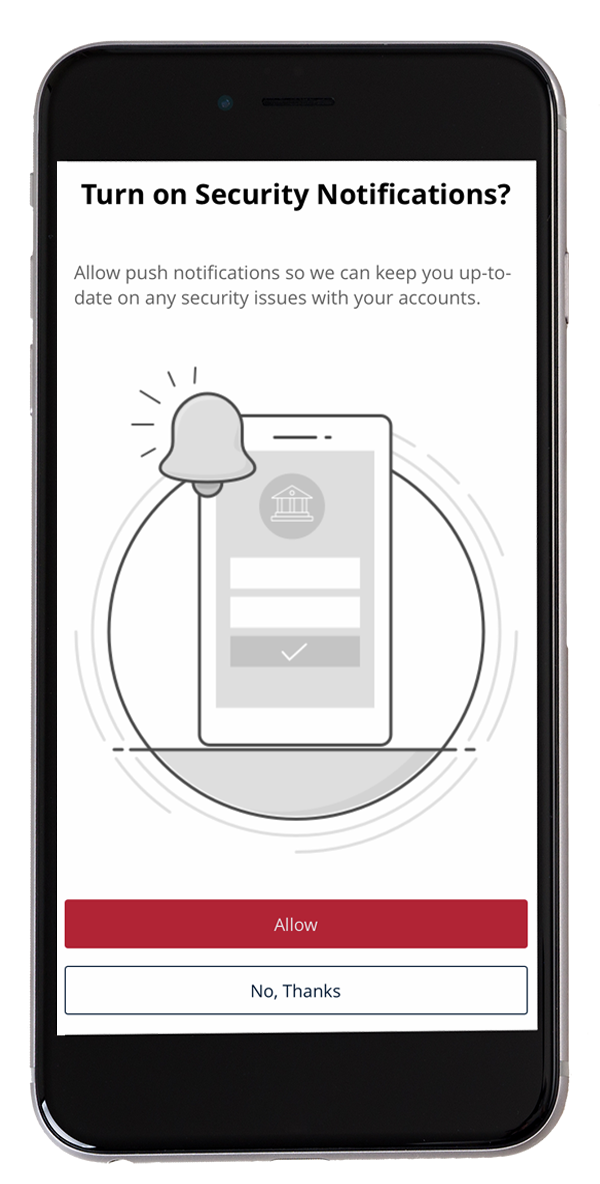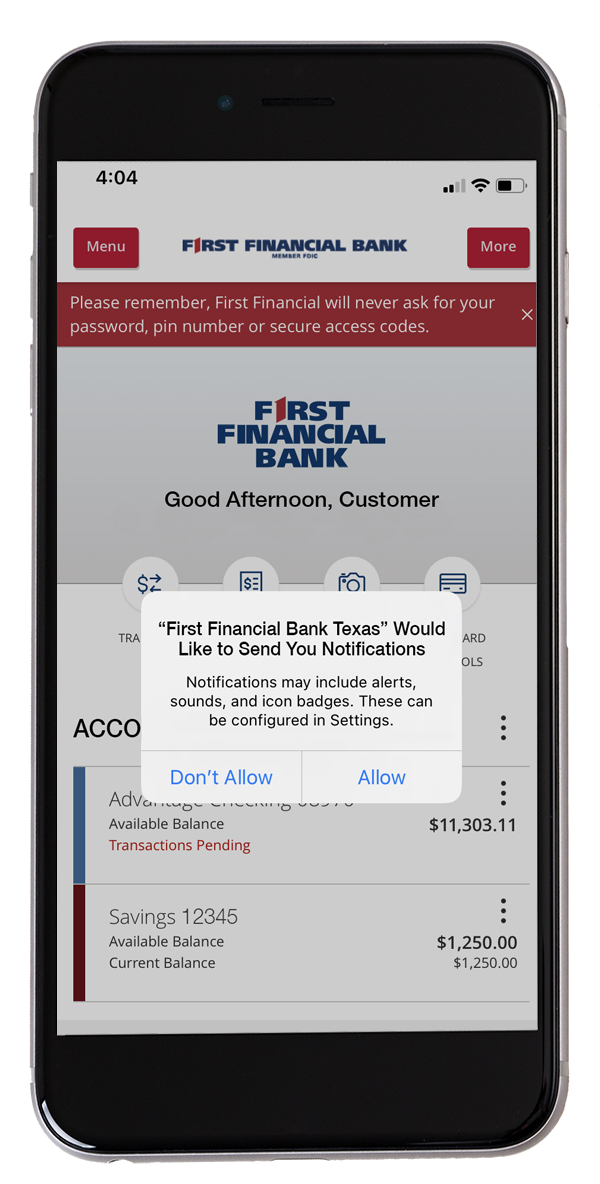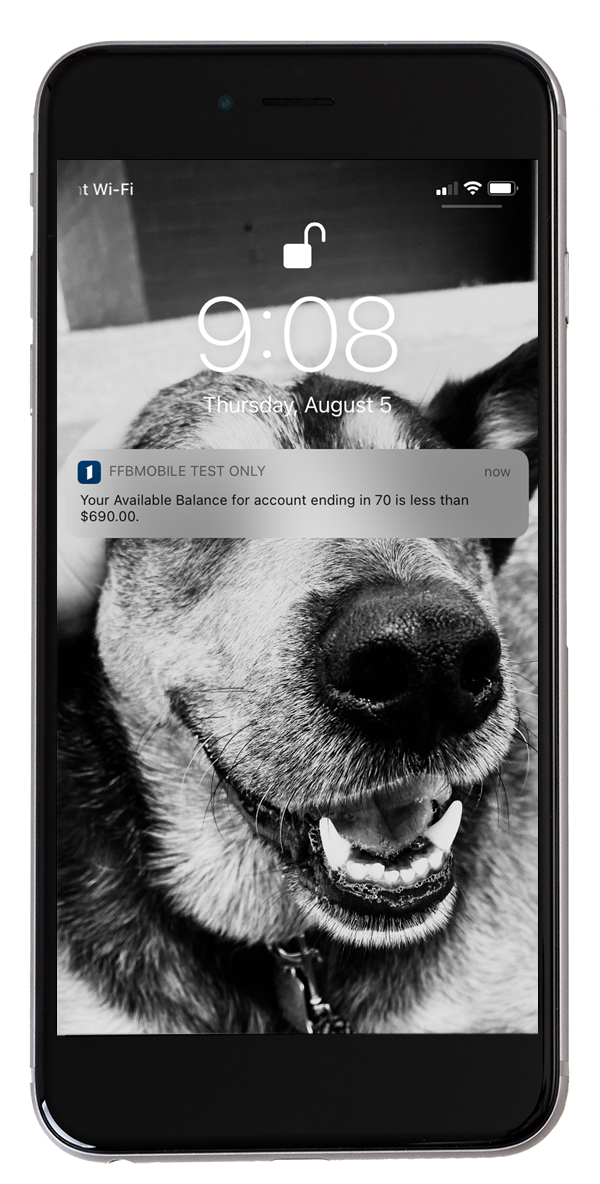 FRAUD PREVENTION TIP:
Be sure to save the phone numbers and email addresses associated with First Financial Bank. This helps lower the chances of falling victim to any fraudulent emails, calls, or text messages!
SMS: 47334
Email: cardalerts@ffin.com
Phone Call: 866-446-1180