First Financial Trust & Asset Management Company, N. A. Announces New Bryan/College Station Office
9/1/2020 3:00:00 PM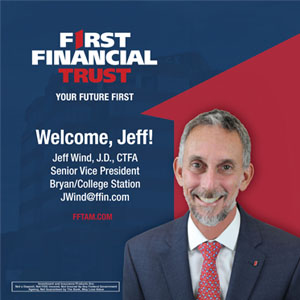 ABILENE, Texas, September 1, 2020 – First Financial Trust & Asset Management Company, N.A., today announced the opening of the tenth trust office located at 1716 Briarcrest in Bryan, Texas, to service the Bryan/College Station region and surrounding areas. The election of Jeff Wind to Senior Vice President and Trust Office Manager was also announced. Both announcements were made by Kirk W. Thaxton, President and CEO of First Financial Trust.
"We are absolutely thrilled to elect Jeff Wind who will open this office to serve Brazos county and the surrounding areas," said Thaxton. "This office represents our commitment to our current and prospective clients across the state. Jeff Wind's knowledge and expertise will make an immediate impact for this new office and to put your future first."
Jeff Wind has more than 15 years in trust and asset management experience serving the Houston, Galveston and Bryan/College Station markets. He holds a bachelor of arts degree from the University of Texas at Austin and a doctor of jurisprudence degree from South Texas College of Law. Wind is a certified wealth strategist and a certified trust and financial advisor. He is a member of the Houston Estate and Financial Forum, the State Bar of Texas, and the United States District Court Southern District of Texas.
First Financial Trust & Asset Management Company is a subsidiary of First Financial Bankshares, Inc. (Nasdaq: FFIN). Other offices are located in Abilene, Beaumont, Fort Worth, Houston, Odessa, San Angelo, San Antonio, Stephenville and Sweetwater. For more information, please visit the trust company's website at http://www.fftam.com
About First Financial Bankshares
Headquartered in Abilene, Texas, First Financial Bankshares is a financial holding company that through its subsidiary, First Financial Bank, N.A., operates multiple banking regions with 78 locations in Texas, including Abilene, Acton, Albany, Aledo, Alvarado, Beaumont, Boyd, Bridgeport, Brock, Bryan, Burleson, College Station, Cisco, Cleburne, Clyde, Conroe, Cut and Shoot, Decatur, Eastland, El Campo, Fort Worth, Fulshear, Glen Rose, Granbury, Grapevine, Hereford, Huntsville, Keller, Kingwood, Magnolia, Mauriceville, Merkel, Midlothian, Mineral Wells, Montgomery, Moran, New Waverly, Newton, Odessa, Orange, Palacios, Port Arthur, Ranger, Rising Star, Roby, San Angelo, Southlake, Stephenville, Sweetwater, Tomball, Trent, Trophy Club, Vidor, Waxahachie, Weatherford, Willis, and Willow Park. The Company also operates First Financial Trust & Asset Management Company, N.A., with eight locations and First Technology Services, Inc., a technology operating company.
The Company is listed on The NASDAQ Global Select Market under the trading symbol FFIN. For more information about First Financial, please visit our website at http://www.ffin.com.