Kyle Seaton Elected EVP/COO for First Financial Bank Abilene Region
10/14/2021 3:00:00 PM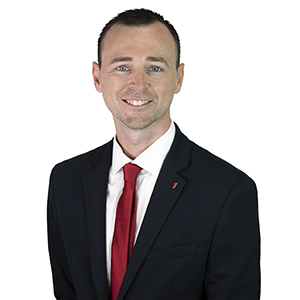 First Financial Bank, N.A. has elected Kyle Seaton, CPA, CGMA, as the Executive Vice President and Chief Operating Officer for the Abilene Region. The announcement was made by Ron Butler, Chairman and CEO, of First Financial Bank, N.A. Seaton will replace Chuck Tennesson, who is retiring in February.
"Kyle's extensive background in banking operations and finance will be a tremendous asset for First Financial Bank," Butler said. "He has an outstanding reputation among his peers, supported by a diverse skillset that has served the financial industry in our region well. We are pleased to welcome Kyle to our First Financial family."
Seaton most recently served as Controller and Vice President of Roscoe State Bank from 2018-21 and as Operations Officer from 2015-18. Among his most recent responsibilities include measuring financial performance, call report preparation, and coordinating the annual budget. Upon completing his Bachelor of Business Administration degree at Hardin-Simmons University in 2008, he joined RL Adkins Corporation as Assistant Controller and assumed the same position at PetroSmith/Smith Pipe in 2012.
He completed the Bank Operations Institute at SMU in 2016 and was elected to attend the Banking on the Leaders of Tomorrow Conference by the Independent Bankers Association of Texas in 2017. Seaton was named the Sweetwater Reporter Reader's Choice Banker of the Year in 2021.
"First Financial has long been a banking leader in the state of Texas and has a growing reputation nationwide as a top-performing bank," Seaton said. "I look forward to working alongside the talented team in Abilene."