Sabas Sanchez Selected As Recipient For the Walter Johnson Award
3/11/2021 9:00:00 AM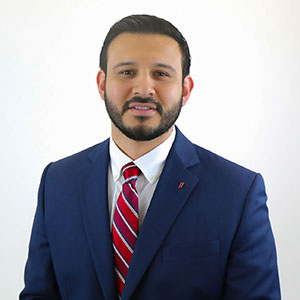 The Walter Johnson Award is the Company's highest honor bestowed upon a person who has contributed greatly and advanced our company to new heights for customers, shareholders, and employees just as Walter Johnson did. The Award has been given only eight times in the last 15 years and is bestowed for the ninth time to Sabas Sanchez, Vice President of SBA Lending for the Company.
Sabas joined the Company in 2015 in our loan documentation preparation department and progressed through the Analyst Program. In 2018, he was promoted to oversee SBA lending for the Bank. His attention to detail and work ethic prepared him for what was to come in 2020 with SBA lending. His knowledge was paramount to enable us to get out in front of the other banks and create a positive plan that he and Luke Longhofer put together to execute the Paycheck Protection Program.
Facilitating a brand new government program literally overnight with new rules every day was a challenge, but it was one Sabas met head-on to pay dividends for our customers, communities, shareholders, and his fellow employees. Sabas is one of many young professionals who continue to make a difference in our company and has proven that every opportunity exists to progress their careers. When we think of Walter Johnson and TEXAS STRONG Bankers, we think of Sabas Sanchez.